For information about the coronavirus (COVID-19) link here: http://www.coronavirus.gov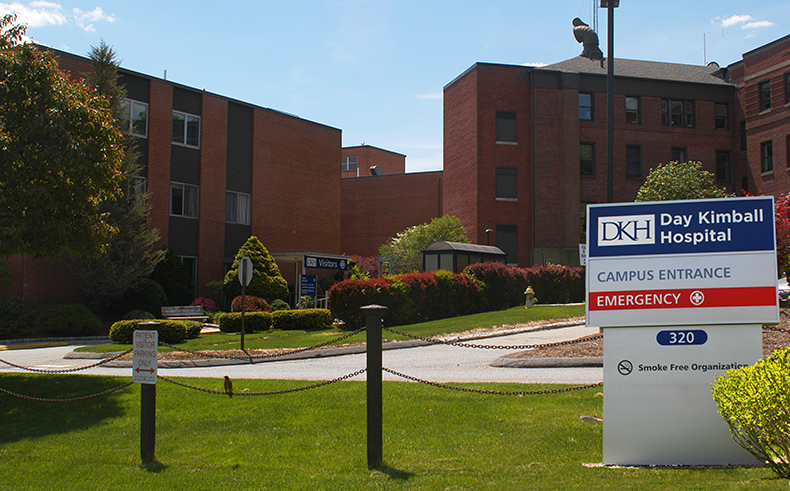 Day Kimball Healthcare
(860) 928-6541 | www.daykimball.org
Founded in 1882, Day Kimball Healthcare is an advanced health network serving over 80,000 residents of northeastern Connecticut. A coordinated healthcare network, Day Kimball Hospital is able to provide patients with a wide variety of healthcare services through one organization. This arrangement ensures high quality services are delivered in the most cost effective manner possible.
Day Kimball Hospital is a 103-bed, acute care, community hospital located 320 Pomfret St.,  Putnam, CT. Day Kimball offers a comprehensive array of inpatient, ambulatory and outpatient healthcare services to meet the community's needs. The Hale Medical Pavilion (see above) is the latest addition to the hospital and houses four state-of-the-art operating rooms, a post anesthesia care unit and the Center for Women and Infants Health.
Other Day Kimball Hospital agencies include Day Kimball Home Care, a Medicare certified home health agency; Hospice of Northeastern Connecticut, a Medicare certified hospice; Northeast Homemakers, a homemaker, chore and companion agency.
Advanced and highly specialized healthcare services are provided to patients through Day Kimball Hospital's affiliations with the nearby major medical centers.
Generations Family Health Center
Generations Family Health Center, Inc. (Generations) is a private, not-for-profit, regional Federally Qualified Health Center (FQHC) that has been serving eastern Connecticut since 1984. Generations provides a full continuum of primary health care, oral health care, behavioral health care, and health education and case management services.
Generations' mission is to provide quality, compassionate and professional health care that is affordable, easily accessible and without discrimination to all members of the communities served. Generations provides a full range of services for all ages at our sites and at a variety of community sites, including:
Medical Services – Willimantic, Norwich, Putnam, Danielson,
Putnam School Dental Services – Willimantic, Putnam and Across the Smiles (Mobile Dental Programs), Putnam School Based Health Center
Behavioral Health Services – Willimantic, Putnam, Putnam School Based
Health Education – Willimantic, Norwich, Putnam, Danielson, Putnam School
In addition: Care Coordination, Services for Children and Youth with Special Healthcare Needs, Ryan White HIV Services, Healthcare to the Homeless and to Migrant/Seasonal Farm Workers, Affordable Care Act Enrollment, HUSKY & SNAP Outreach and Nurturing Families/Building Bridges Home Visitation Services are available.
Our Locations:
42 Reynolds St. | Danielson, CT 06239 |  (860) 774-7501
202 Pomfret St.  | Putnam, CT 06260 |  (860) 963-7917
Putnam Middle School | 35 Wicker Street |  (860) 928-4698
330 Washington St. |  Suite 510 | Norwich, CT 06360 | (860) 885-1308
40 Mansfield Ave. | Willimantic, CT 06226 | (860) 450-7471
Natchaug Hospital
Natchaug Hospital is a private, non-profit member of the Hartford HealthCare Behavioral Health Network, Connecticut's largest and oldest provider of mental health and addiction services.  Founded in 1954, Natchaug strives to provide a continuum of accessible, community-based services through its 10-site network of care. Natchaug provides a wide range of treatment for children as young as five, adolescents and adults including inpatient services at its main campus in Mansfield; residential treatment for court-involved teenage girls; clinical day treatment schools; in-home services for families and children; ambulatory detoxification; and partial hospitalization and intensive outpatient programs.  Each year, Natchaug treats more than 5,000 people at its locations in Danielson, Dayville, Enfield, Groton, Mansfield, Norwich, Old Saybrook, Vernon and Windham.
Plainfield Backus Emergency Care Center
582 Norwich Rd. | Plainfield, CT 06374  | (860) 230-2830
Now in its third year of operation, the Plainfield Backus Emergency Care Center fills a much needed void for emergency care in southern Windham and northern New London counties.
Along with a staff ofboard-certified emergency physicians, Eastern Connecticut's first 24/7, stand-alone emergency department offers a lab draw station, diagnostic imaging, including X-ray, bone density scans, mammography, ultrasound, CT-scan, MRI and LIFESTAR access when needed. The 13,000-square-foot facility located at582 Norwich Road, Plainfield, features 12 treatment rooms, a triage and waiting area.
United Community & Family Services
(860)822-4938 | http://www.ucfs.org
For more than 130 years, United Community & Family Services has been providing healthcare and community services to Norwich and the surrounding areas. UCFS has been a cornerstone in the community since 1877.
In an effort to provide a wide range of programs and services that respond to the ever-growing health and human service needs of those living and working in our region, UCFS now provides:
Outpatient Primary Medical Care
Outpatient Behavioral Health Services
Community Based Behavioral Health Services
Women's Health Services
Dental Services
Community Health Services
Eldercare Services
United Services, Inc.
(860) 774-2020 | www.UnitedServicesCT.org 
United Services, an award winning 501(c)(3) non-profit organization, has been the major provider of children, family and adult behavioral health and social services in northeastern Connecticut for fifty years.  United Services strives to fulfill its vision of creating healthy communities by providing an effective response to the youth, family and adult social and behavioral health needs in the communities it serves. With over 30 programs and four office locations (Dayville, Wauregan, Willimantic and Columbia), the organization provides a comprehensive array of services that allows for working collaboratively with clients so they become positive community members who attain their personal goals.
For business and industry, United Services offers an Employee Assistance Program.  Through the program, businesses can contract to provide essential mental health and personal crisis intervention services for their employees.  Essential employee training sessions such as Prevention of Sexual Harassment Training, are provided to participating employers through the Employee Assistance Program as well.
Other services provided to individuals and the community include:
Psychiatric Emergency Services for all ages on a 24/7/365 basis
Mental and behavioral health services for all ages.  Services are provided in clinic settings or are community based, and include adult mental health outpatient services, child and family counseling, psychiatric consultation services, PTSD and trauma counseling, and case management services
Child and family services including a Parent Education Program, Positive Parenting Program, intensive family preservation, family violence education and case management.  United Services is also the designated Child Guidance Clinic for the area and serves as the Youth Service Bureau for 10 towns in northeastern Connecticut.
Our Center for Autism is one of the only facilities in eastern Connecticut dedicated exclusively to the assessment and treatment of children and adults with Autism Spectrum Disorders (ASD), along with supportive services for their families.
Services for young adults and adults with severe and persistent mental illness, including outpatient psychiatric services, supported housing, vocational services, social rehabilitation, case management and an intensive 24-hour residential program.
Addiction recovery services
Our Domestic Violence Program, the only one in the area, provides support, advocacy and referrals for women and child victims of domestic violence, and two shelters for women in crisis and their children.
Services to homeless households are provided by our case management services.
For more information about United Services and its programs, including the Employee Assistance Program for business and industry, please call 860-774-2020 or visit the website above.